Positive Reward Based Training
I've Learned Firsthand How
Can Cause Stress & Disrupt Your Daily Routine
I work with a collaborative approach to training, developing an understanding of all aspects of a dog's environment: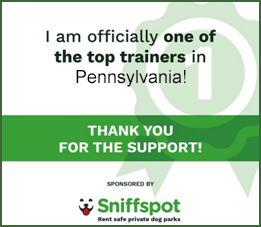 I train with a Multi-Modal Approach, while evaluating:
1. Nutrition
2. Exercise
3. Formative Background
4. Social Experiences
5. Medical History
Positive reward based training involves rewarding your dog for the things they do right. The reward could be a toy, a game, or a treat – whatever your dog wants to work for. Positive reinforcement training is based on the science of animal learning, and it's incredibly effective.-akc.org
I use an evidence based, positive reward based training model. I am also a Peaceable Paws Affiliate. I offer complementary training tips and feedback to all boarding clients. Please do not hesitate to ask!
Dog Training Credentials:
For your dog's protection, they must be up to date on their Core vaccinations (DHPP, bordetella, rabies), influenza, and protected with monthly flea/tick treatment. In order for me to comply with PA Dog Law Chapter16, Sub-chapter C, section 16.41, 16.44, and 16.45, you are required to provide a copy (electronic is fine) of your dog's Rabies Vaccine.
While boarding here, you pet is constantly under supervision. Emergency Veterinary service is available 24-7, should your dog require it.
Thank You in advance for your compliance with the following:
Your pet is required to be on a leash at drop off, pickup, and Meet & Greets
Please arrive at your agreed upon time
Please use the designated Dog Area if your pet needs to relieve himself
I apply standards of care and safety, please do not ask me to make exceptions
If you have questions or would like me to provide references, please do not hesitate to ask!
Thank You, I look forward to working with you
Kathy is extremely knowledgeable, and her calm and confident manner allowed her to easily build a relationship with our greyhound. She took wonderful care of our (dog), who absolutely loved running in the five-acre fenced area! (Our dog) can't wait to go back.
Kathy has a warm personality and upon meeting her you'll feel comfortable with how capable and natural she is with animals! She has terrific insight into animal behavior which is an added bonus to the stay. Her home is set up that your pet has separate space to themselves yet can see the activity of everyone else, too.